BIRMINGHAM, Ala, (GOOD DAY LIVING) - Oh, holy LIGHTS! Seeing all the beautiful and bright displays of Christmas lights is one of the best activities to do during the holiday season. Christmas lights and displays will bring a little joy to your life.
If driving around to see lights is a part of your family's traditions, it might best to get only your immediate family together this year. The listing is in random order. If you have a suggestion on a place we should add, please email jenna.wood@wbrc.com.
309 Studdard Drive, Clanton 35045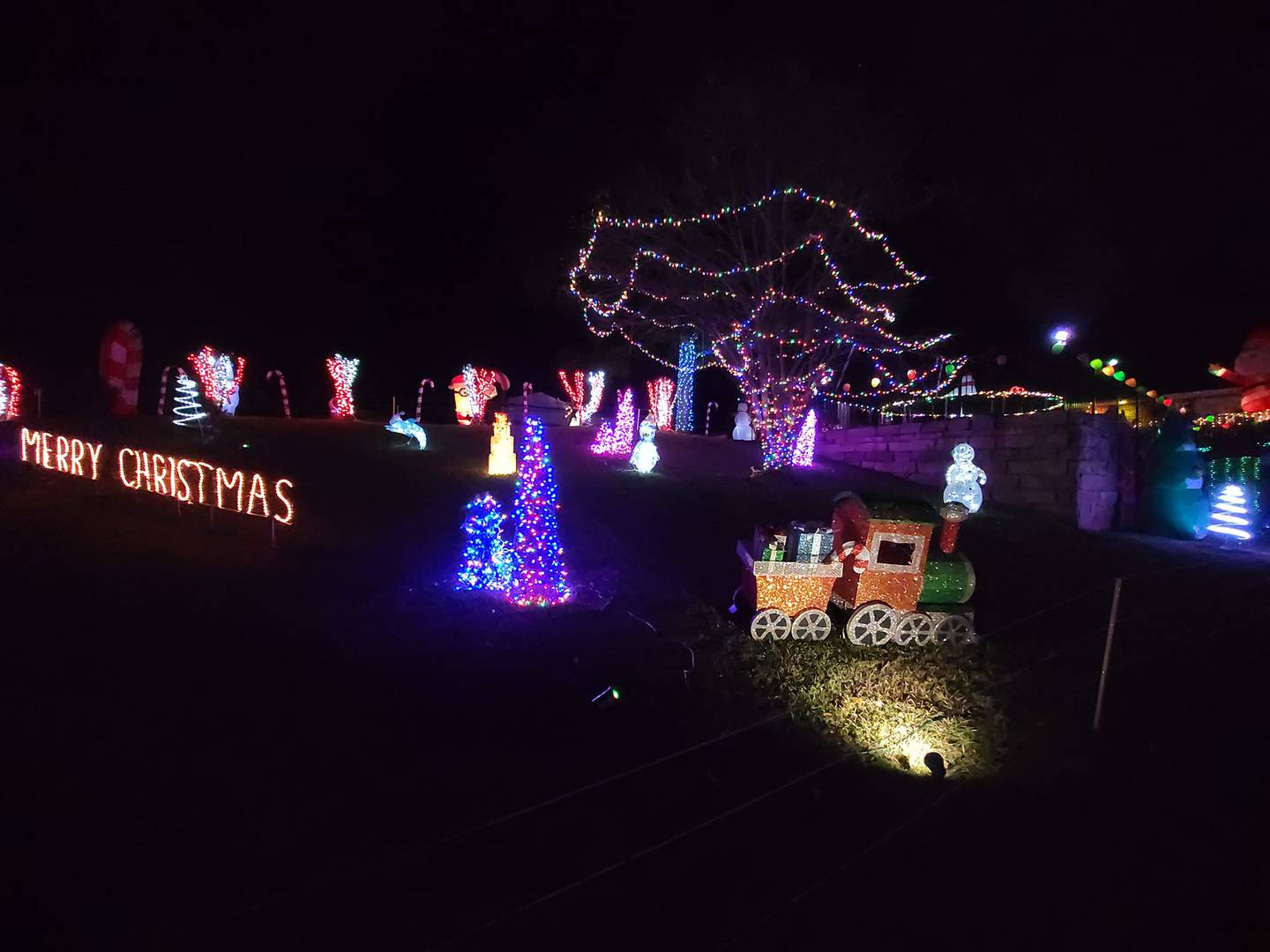 Christmas Wonderland is a walk through Christmas Lights attraction. Come enjoy the lights and, on select nights, see Santa Claus. Don't forget to look for Snowflake the elf. She is hiding on the path, find her, then come to Santa's Cabin and tell us where she is to get a bag of candy.
8333 West Hill Road, Pinson 35126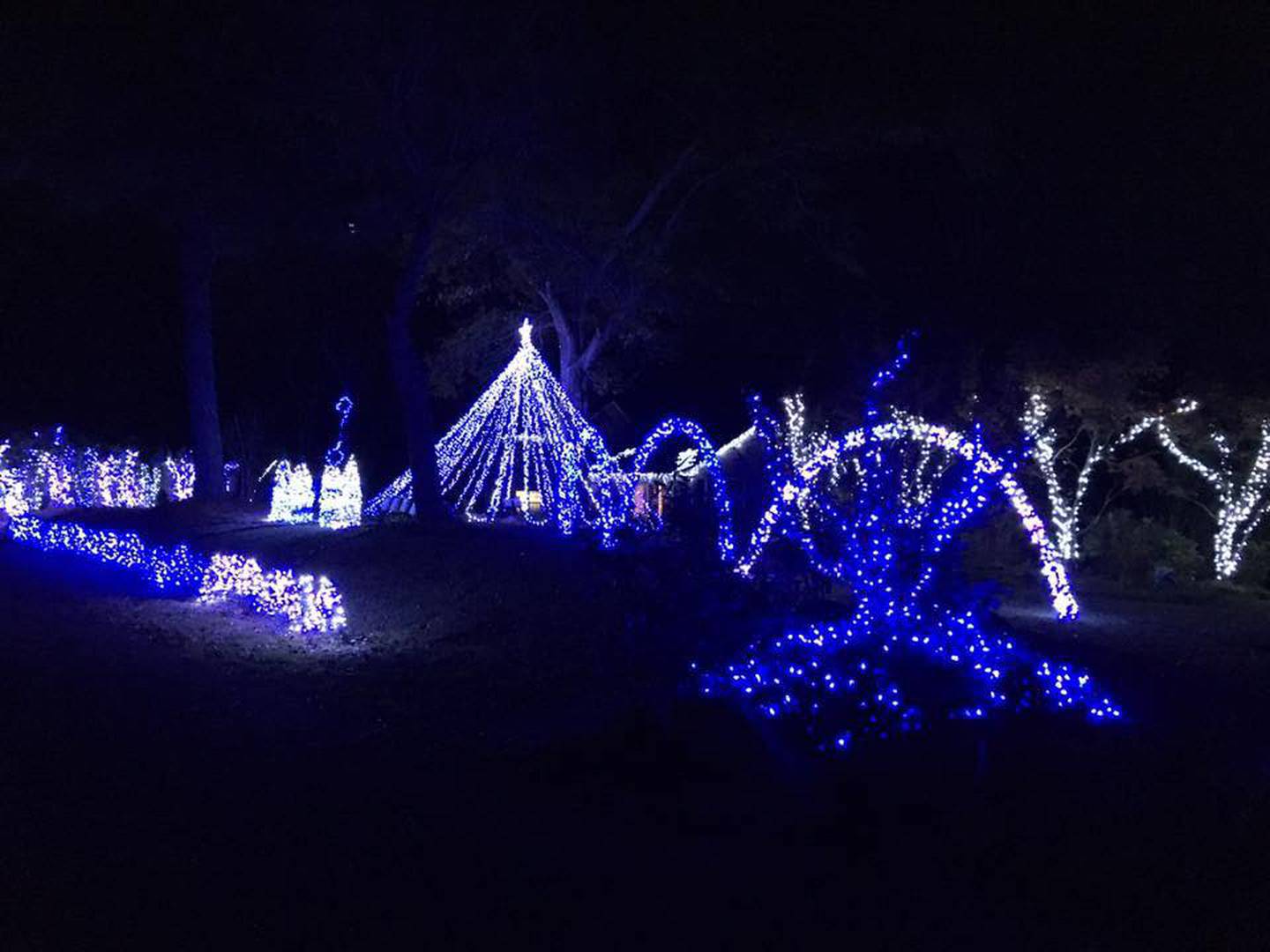 Tune your car radio to 88.1 FM and go enjoy the non-interactive light display in Pinson! There is no charge to see the lights, but they take donations for Magic Moments.
1500 Noccalula Rd., Gadsden 35904 (Noccalula Falls Park and Campground)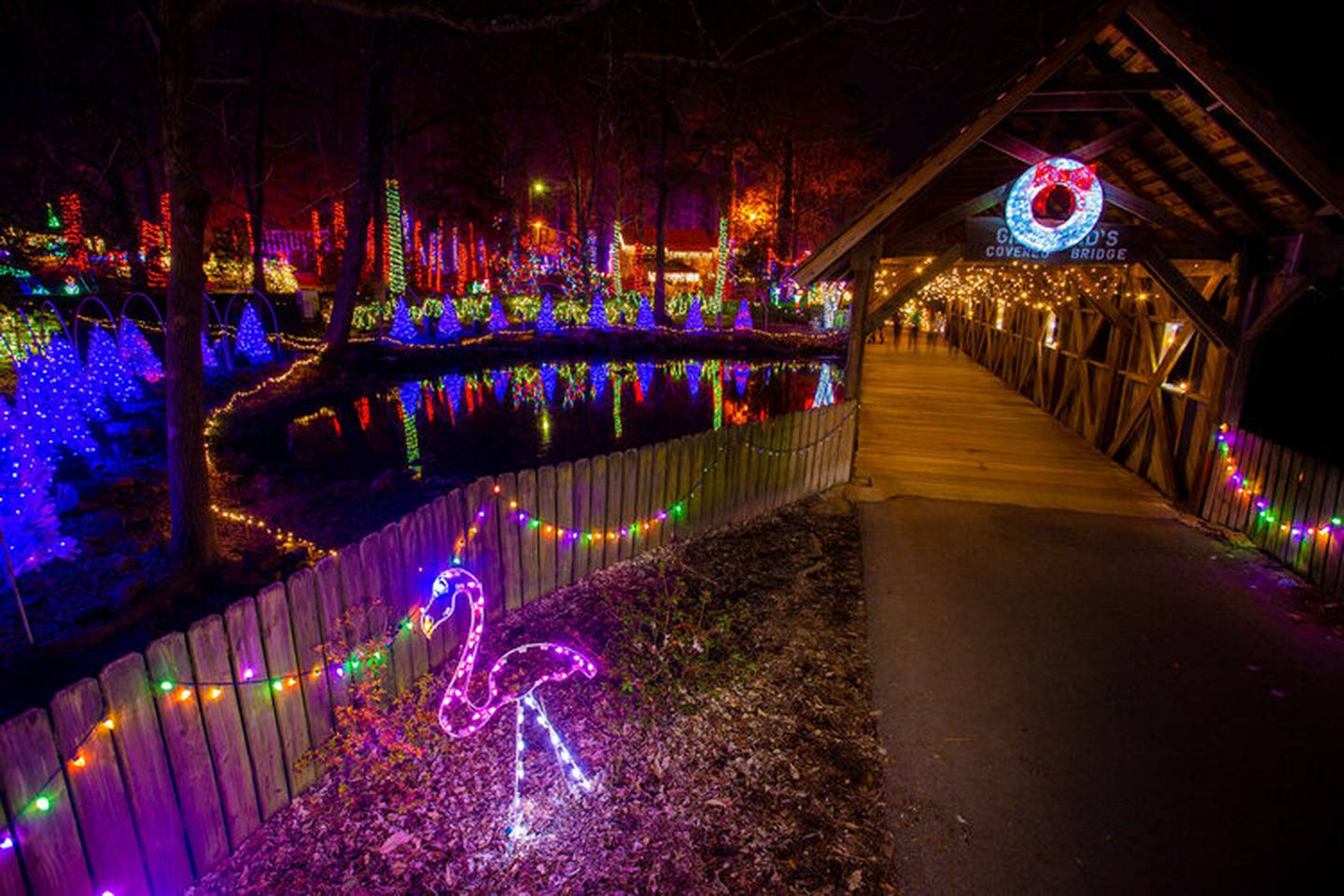 Celebrate the holiday season with Noccalula Falls and the City of Gadsden at Christmas at the Falls. Enjoy millions of lights throughout the park with spectacular views from the paved walking trails or from the vantage of a ride on the park's train. Social distanced Santa will be in the post office/general store this year where he can talk to the kids from a safe distance. Concessions will still be sold but there will be no cookie decorating. Christmas at the Falls runs nightly from 4 p.m. to 9 p.m. Tickets will be pre-sold online only. Tickets are sold per night and per time slots.
Monday - Thursday: $8 per ticket + online fee
Friday - Sunday: $10 per ticket + online fee
Train Express Pass: $10 per pass (2 passengers per pass)
4. The Toy Shop on Magnolia
211 Magnolia Street, Trussville 35173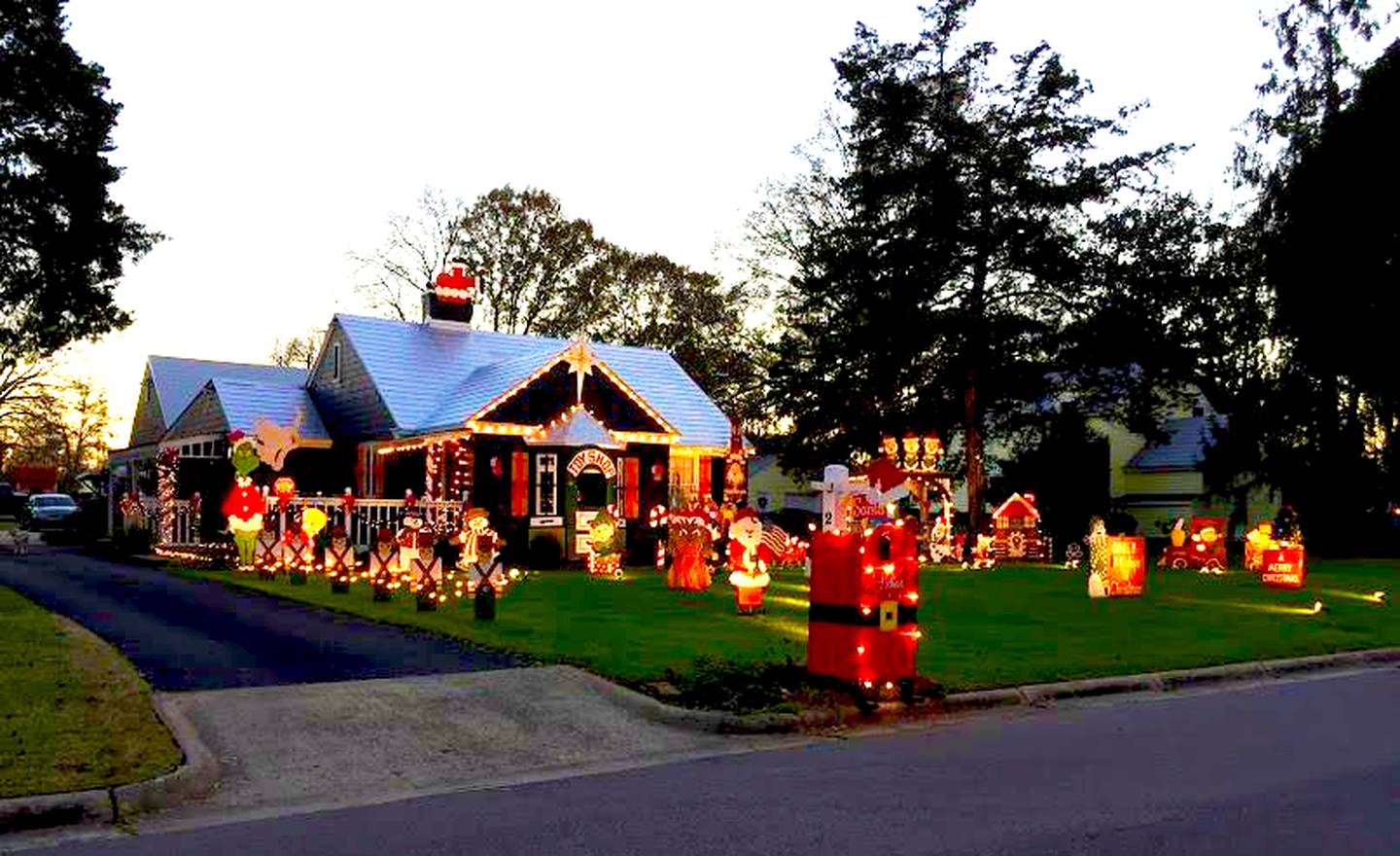 Bill and Trisha Latham handmade all the decorations at this beautiful display of lights and decorations. The house is absolutely adorable and made to look like Santa's toy shop. We just love it!
640 County Rd. 128, Calera 35040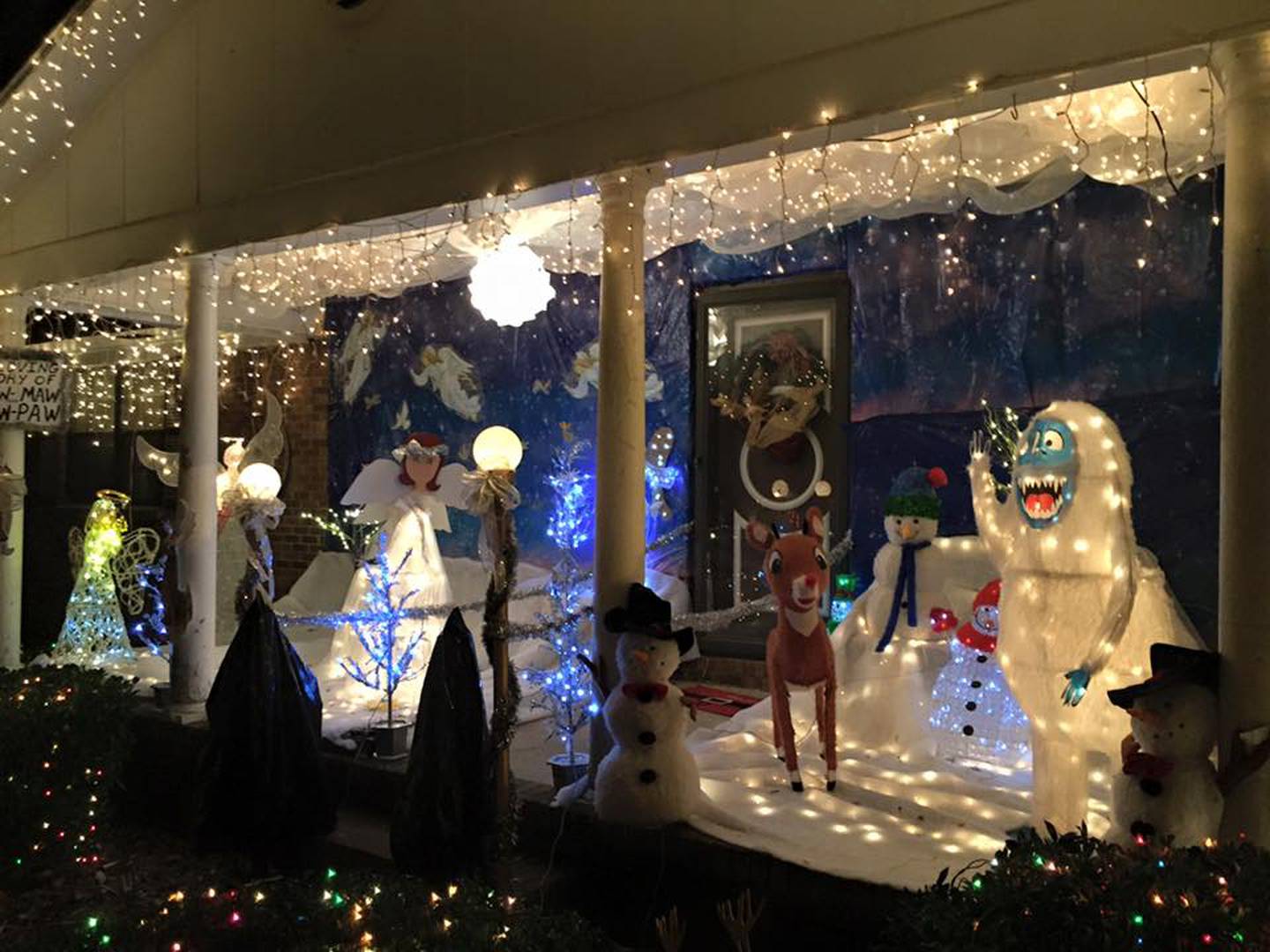 The Blackmon's have been displaying their holiday lights for nearly 29 years! Christmas Fantasyland will have several attractions that include a rotating carousel a play on train and a rotating Ferris wheel. Visit Elsa's castle, Whoville, and the North Pole!
6. Peppertree Neighborhood
Peppertree subdivision in Trussville 35173
Many of the houses in the Peppertree subdivision of Trussville go all out for the Christmas holiday. Take a leisurely drive through the neighborhood to see some really nice light displays!
Bearden Lane, West Blocton 35184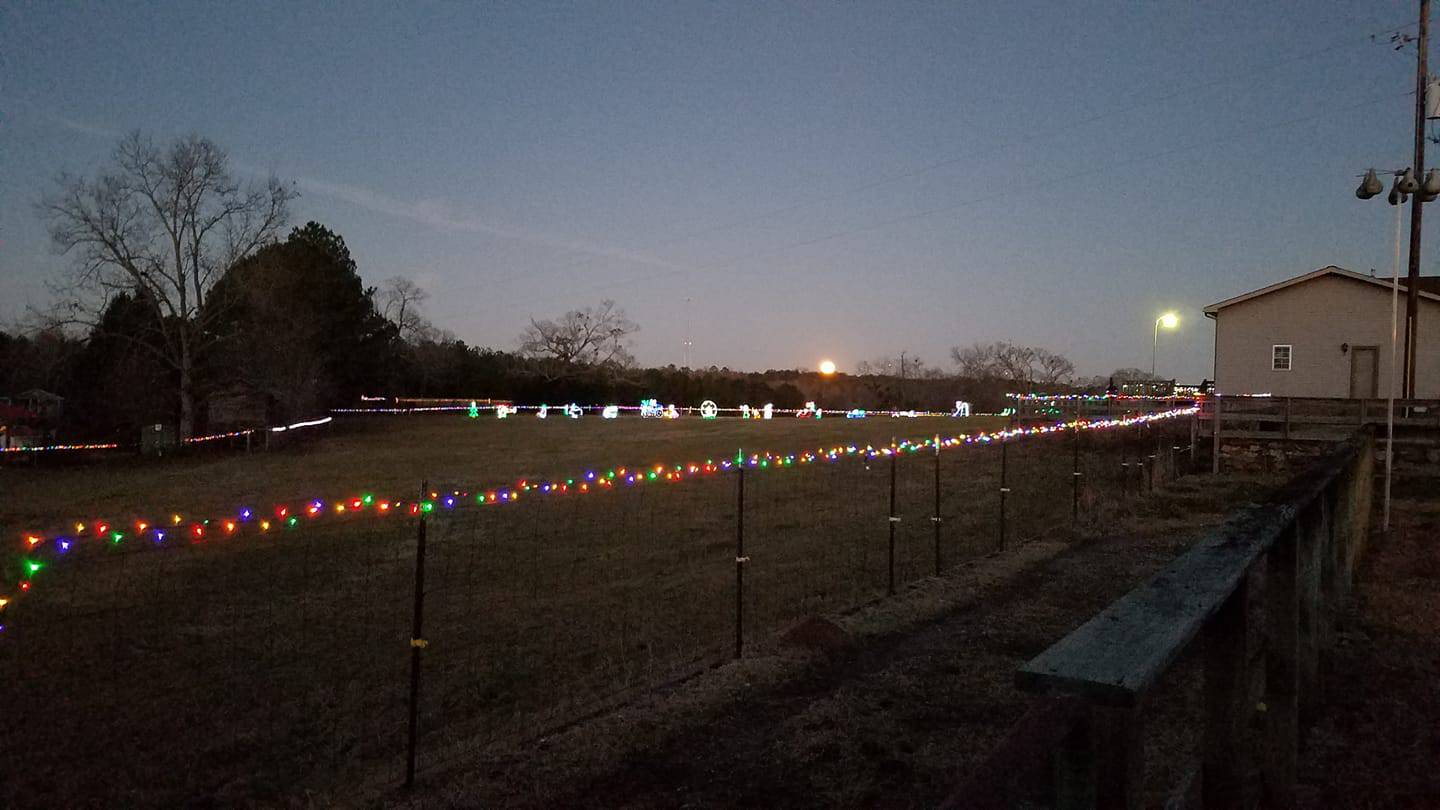 Bearden Christmas Lights is a large drive-through display with two radio synced shows, one on 90.1 FM and the other on 88.7 FM. The Bearden's also have numerous scenes set up along their driveway. Everybody is everyone is welcome to come out and it's FREE!
8. Christmas at The Jenkins
1008 Wood Duck Way, Alabaster 35007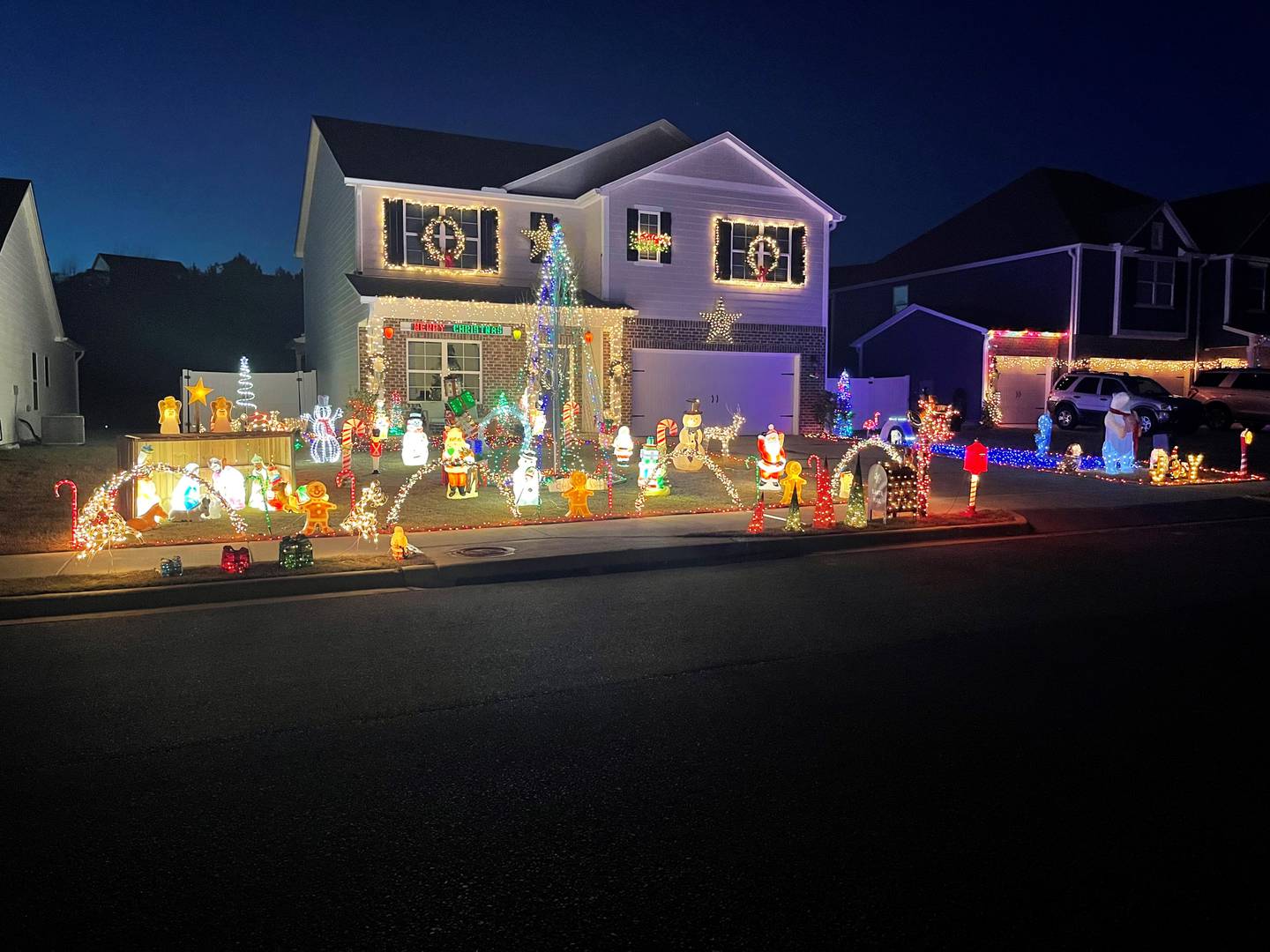 Go see the Christmas light display at 1008 Wood Duck Way in Alabaster "Christmas at The Jenkins"! Every year the Jenkins add more to their display and this is their biggest display to date! Enjoy over 20,000 lights to include beautiful bright arches and a 20 ft. mega Christmas tree!
2630 Cahaba Road, Birmingham 35223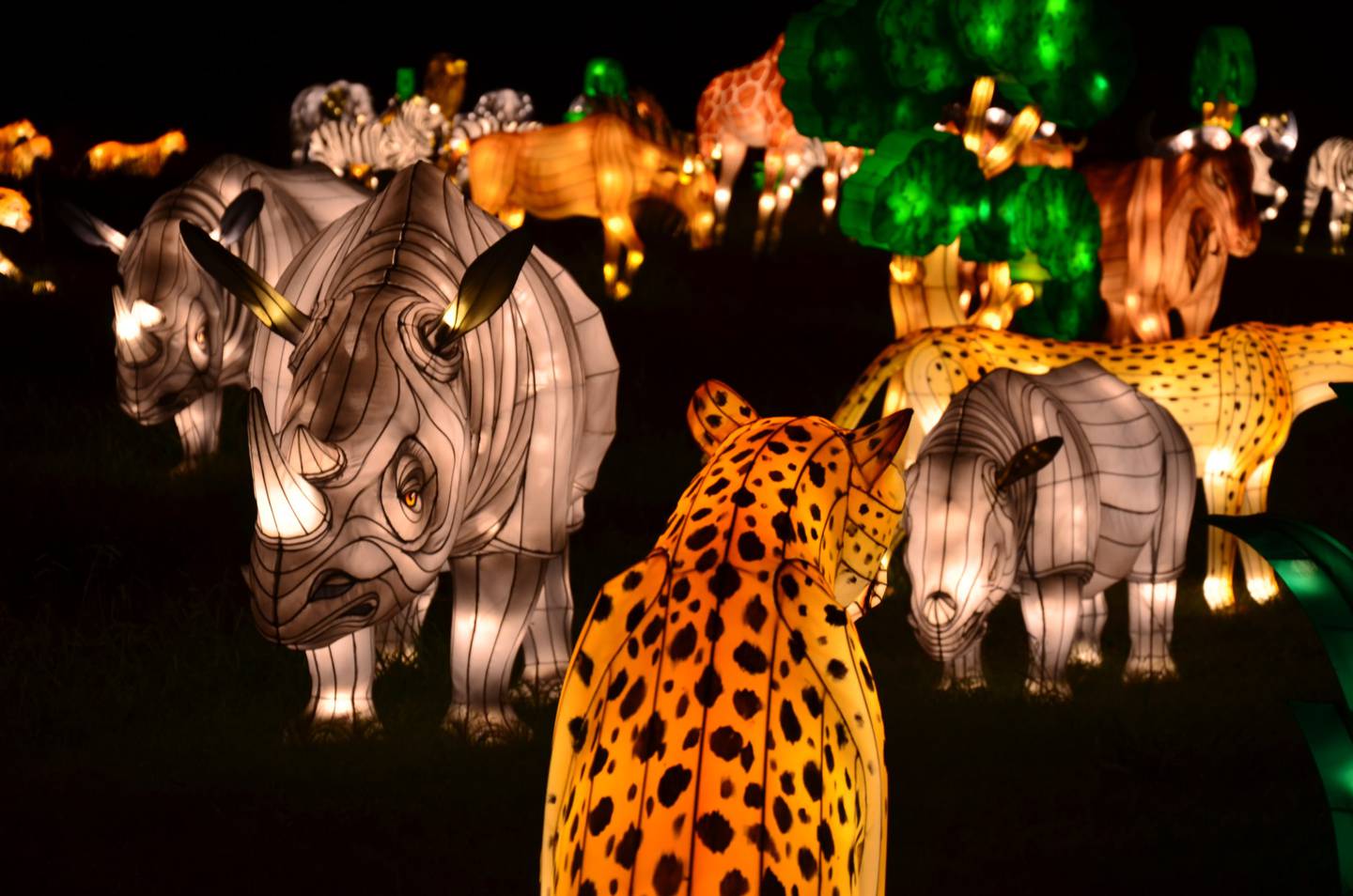 Get ready for the Birmingham Zoo's new larger than life illuminated experience, Glow Wild: An Animal Lantern Celebration! Guests will be captivated by visually stunning lantern creations of wildlife from around the world. Watch the Zoo come alive with hundreds of marvelous animal shapes of all sizes – from pandas, elephants, cheetahs, polar bears, and whales – soaring up to 30 feet high! Spend all winter long with your Birmingham Zoo and glow wild into the new year!
6415 Old Springville Rd., Pinson 35126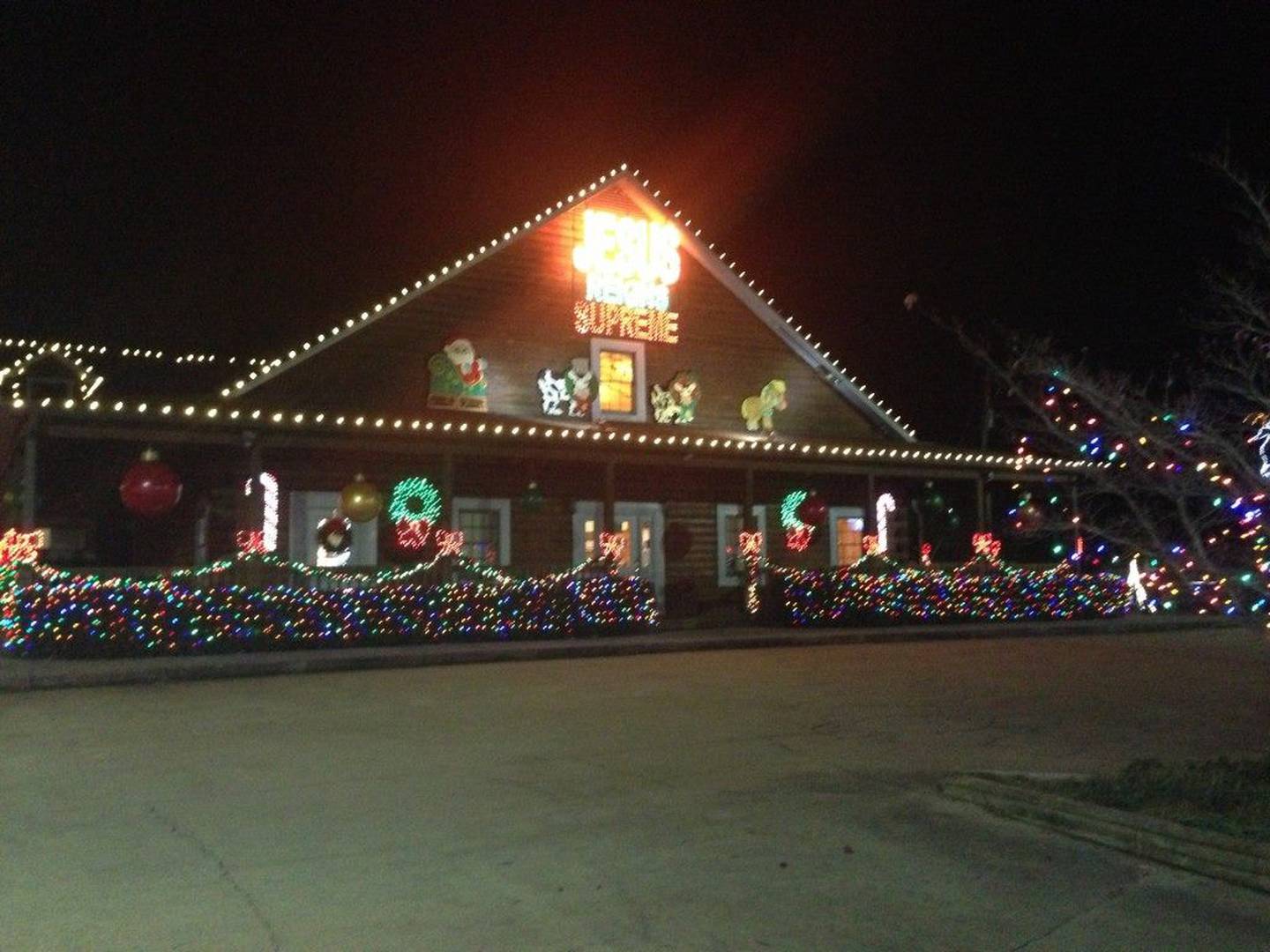 Clay Chalkville Animal Clinic, a veterinarian's office in the Clay Chalkville area is a beautiful sight to see around the Christmas holiday! The entire building is decked out in lights, decorations, and a beautiful sign that reads "Jesus Reigns Supreme". Every year, Dr. Hart and his team make stopping by their office a pure treat for children and adults alike!
Starts at Tropicaleo, 4426 4th Ave S, Birmingham 35222
The Wacky Tacky Light Tour is a guided bus tour of the best of the worst of Birmingham's holiday lights. Your ticket includes a two-hour guided bus tour of a carefully curated route of the best of the worst of Birmingham's holiday lights including Santa's Trailer Park, the Hanukkah House, Dueling Neighbors, Star Wars Christmas and new houses: Saddle Up Santa and Xmas on a Limb. The tour is curated to light up the night with fun and festivity. Wear your tackiest sweater. Prepare to laugh out loud. You can bring a soft pack cooler on the bus, just nothing red can be in it: Red wine, Doritos or Cheetos.
1225 Palisades Pkwy, Oneonta 35121
Palisades Park in Oneonta sparkles each year with thousands of glowing lights. The public is invited to drive through to see the Christmas light extravaganza. Local businesses, churches, civic groups, individuals, and park staff create numerous displays of thousands of twinkling lights. Admission is free, but donations are welcome.
13. The Preserve in Hoover
The Preserve subdivision in Hoover 35022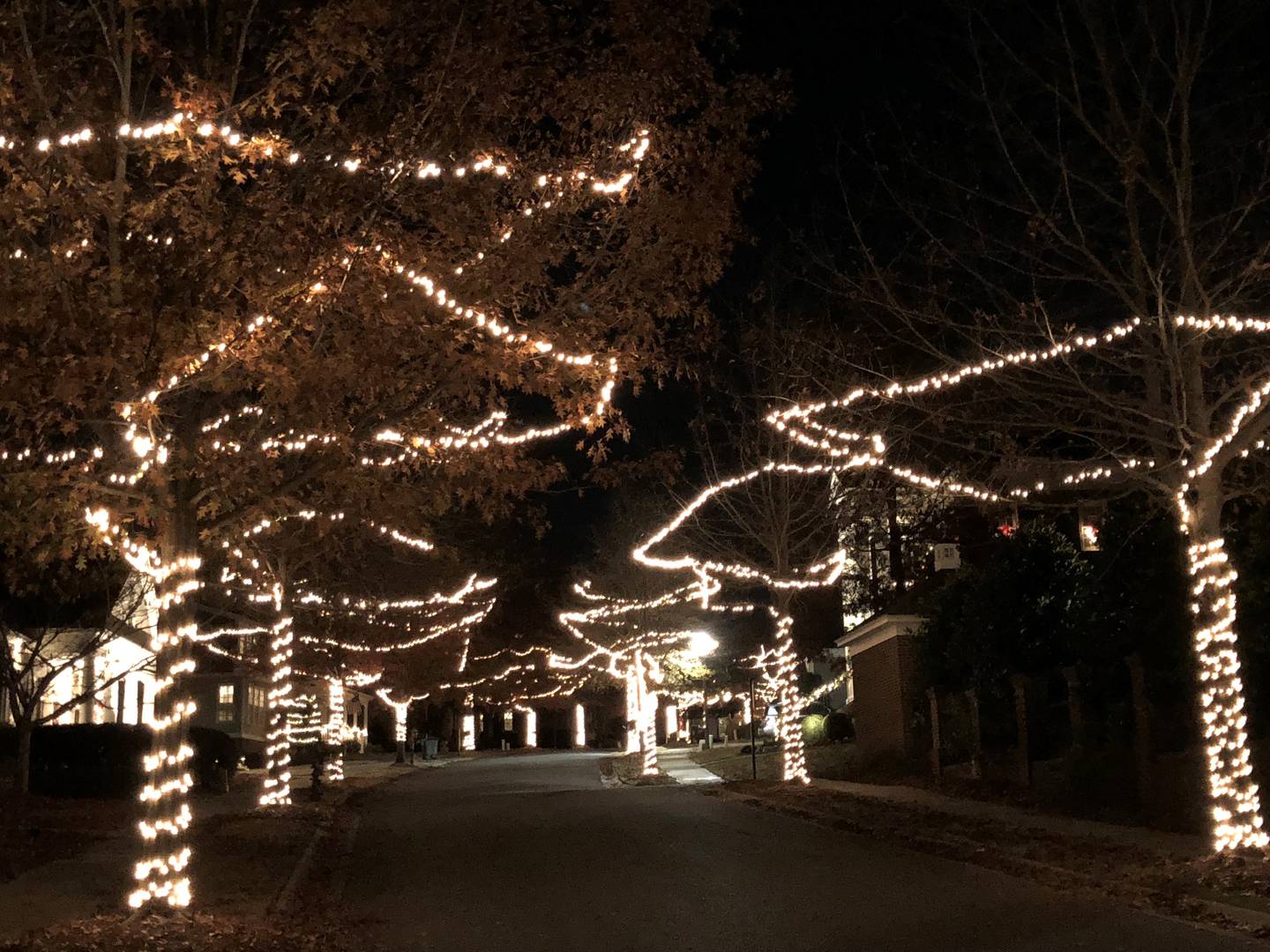 The gorgeous houses in The Preserve neighborhood always have a beautiful display of Christmas lights. Grab your family and get your ready to cruise through this subdivision to gaze at the sparkly lights.
14. Christmas at Waterford
441 Waterford Cove Trl., Calera 35040
The Landry family pulls out all the stops at their beautiful display "Christmas at Waterford" in Calera. You can expect to see a traditional display of over 50,000 lights. It's definitely worth adding to your list of places to check out each year.
15. Lynn and Doris Cuzzort's Lights
1136 Kornegay Road, Oneonta 35121
Lynn and Doris Cuzzort's lights are beautiful and unique. Each piece is made by the Cuzzorts! They add to the collection each year when a new idea comes to mind. Lynn's enjoyment is seeing cars slow to see their creations. The best present is hearing a child squeal or when a car turns around for another look.
16. Smith Family Lights
3212 Trace Circle, Trussville 35173

You can't miss this house if you're in the Hidden Trace Subdivision of Trussville. The glowing star upon the nearly 50 ft. tree will grab your attention from several streets away. The Smith family started decorating in 2014 and have grown their lights collection by adding something new each year. Several of the decorations, including the star, cross, and arches, are handmade by the couple. The Smiths love making everyone smile with their beautiful lights.
17. The Waltchack House
2445 Chestnut Road, Vestavia 35216
If you're in the Vestavia Hills area, go check out the Waltchack House! Tune your car radio station to 100.9 enjoy the light show. Hot cocoa is available for $2 on most weekend nights. LED bracelets that synchronize to the show will be available for purchase and can be used all season long. Just don't forget to turn them off when you leave to save the battery life. Bracelets are $4 each or 3 for $10. Cash and Venmo are accepted.
Guthrie Smith Park, Fayette 35555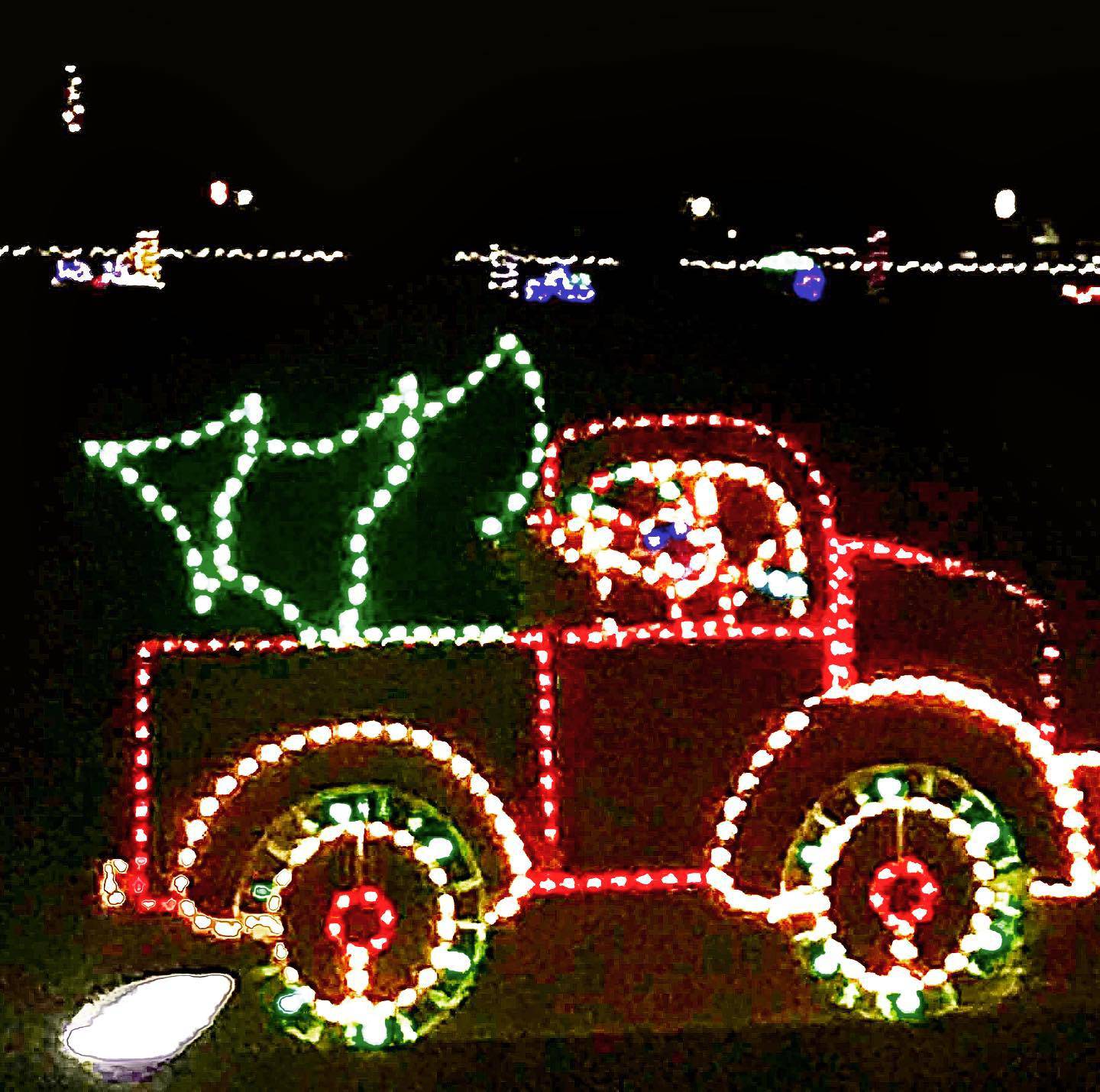 Christmas at the Park located at Guthrie Smith Park is a drive-thru of Christmas lights and has become a family favorite regional event for many people. There is no cost by donations are accepted. Unfortunately this year there will be no hot chocolate or train rides.
19. Brook Highland Lights
1009 Warrington Circle, Birmingham 35242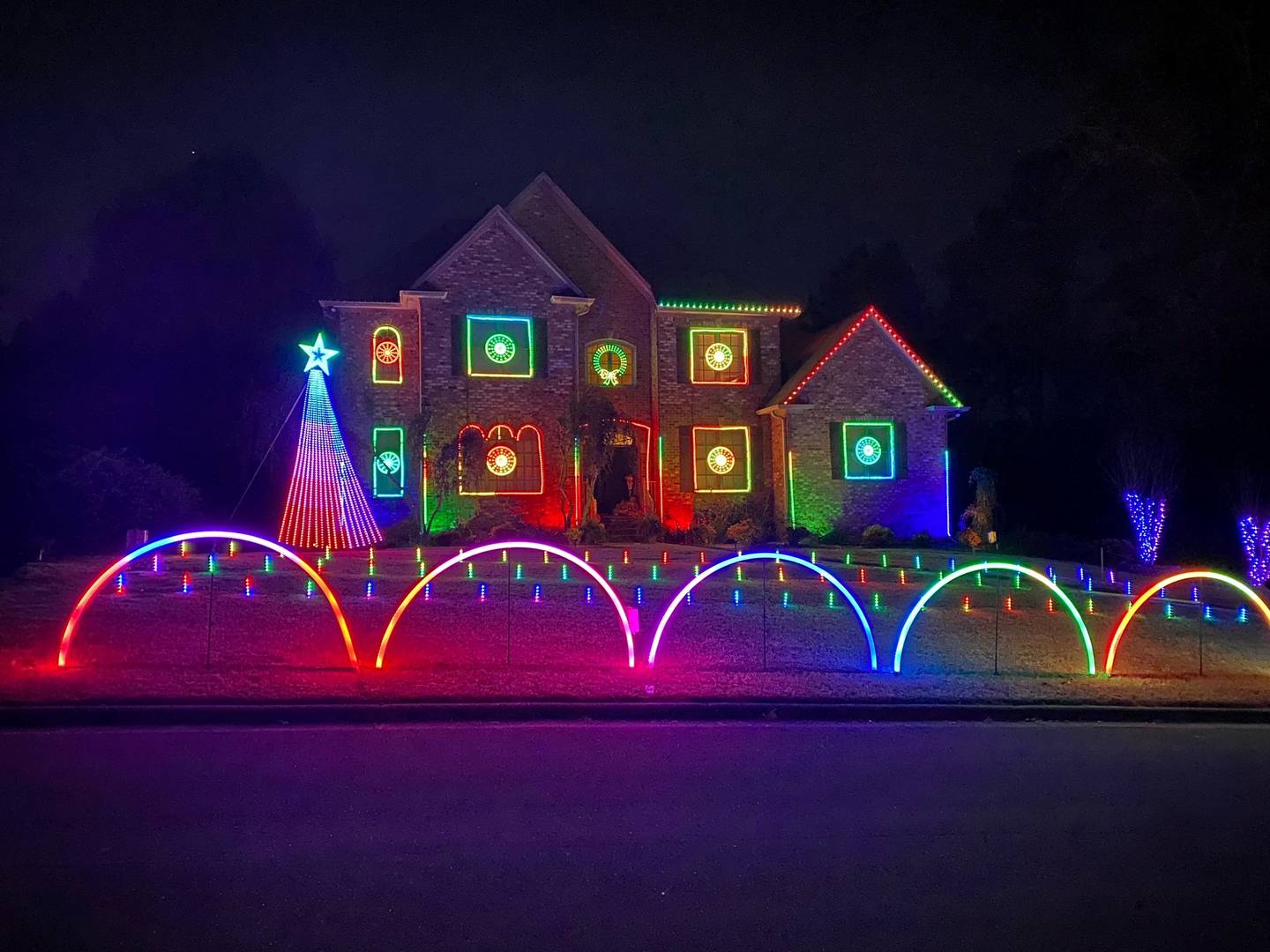 Come on over and enjoy the show in the Brook Highland neighborhood while tuning into 87.9 FM. Be sure to bring your letter to Santa! Include return address and the Big Man in Red will be sure to respond- he told us so! Bonus, there are three houses synced together for your viewing pleasure.