TUSCALOOSA, Ala. (WBRC) - If you're headed to this weekend's Alabama vs. Tennessee game in Tuscaloosa, check out the Shipt and Visa Ultimate Tailgate Lounge on the University of Alabama campus.
The free and family-friendly tailgating experience on Oct. 21 is open to the public. Festivities will include face painting, games, prizes, and plenty of fun ways to celebrate game day.
The tailgate experience starts at 11 a.m. until kickoff at 2:30 p.m. and will be located on Champions Lane directly in front of Bryant-Denny Stadium.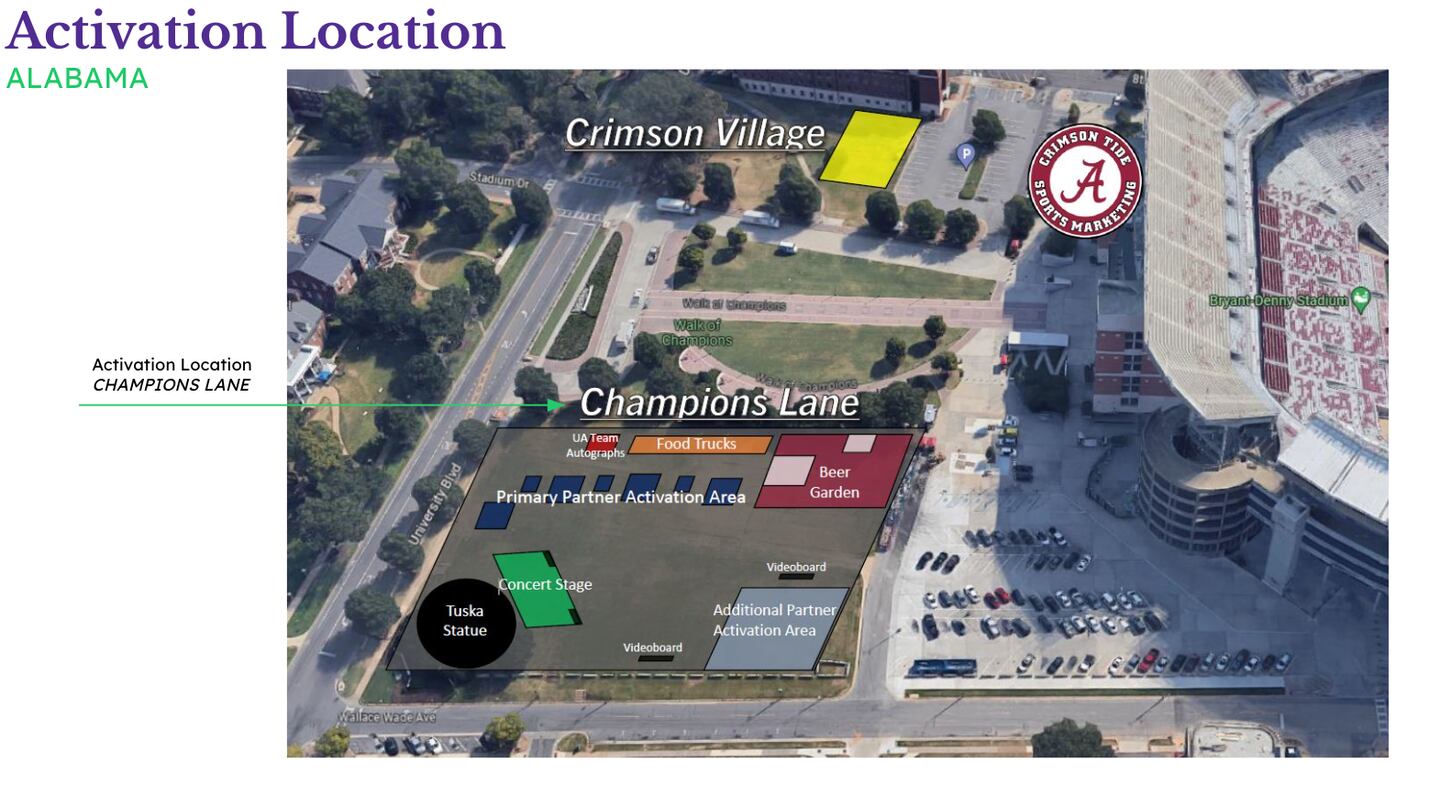 As part of the experience, well-known chef and television host Jeff Mauro will be sharing tailgate tips, traditions, and recipes that are perfect for game day. Chef Mauro has created a new Smoked Triple Pepper Aged Cheddar Dip and Maple Pepper Pig Candy BLT Sliders with Giardiniera Aioli.
"I am excited to be working with Shipt and Visa teams to bring people and food together in one of my favorite settings-- tailgates," said Chef Jeff Mauro. "It doesn't get any better than making great memories and great food while cheering on your favorite team, and my recipes will help fans do just that this season and beyond."

—  Chef Jeff Mauro
You can also enter the Shipt Ultimate Tailgate Sweepstakes for a chance to win $2,000 in Shipt credit. Click here for more details.
---
The recipes for Chef Mauro's game day creations are below.
Smoked Triple Pepper Aged Cheddar Dip
Serves 4-6 people
1 cup whipped cream cheese
2 tablespoons chipotle in adobo sauce
1 fresh jalapeno, seeds and ribs removed, very small dice
3 Tablespoons diced, drained pickled banana peppers
1 cup orange, aged sharp cheddar
Kosher salt to taste
1 tablespoons very thinly sliced fresh chive (garnish)
Whisk together cream cheese, adobo, jalapeno, banana peppers and cheddar. Once smooth, season with salt. Top with a coating of fresh chives and serve with pretzel logs.
Maple Pepper Pig Candy BLT Sliders with Giardiniera Aioli
Ingredients; serves 6-8 people
1 recipe Maple Pepper Pig Candy (see below)
2 Vidalia onions – sliced
2 tablespoons vegetable oil
Balsamic vinegar
Roma tomato – sliced medium-thickness
4 crispy leaves of Romaine Lettuce
1 recipe Giardiniera Aioli (see below)
1 pack buttered rolls with salted butter and lightly griddled until golden
Instructions
Heat a large skillet over medium heat.
Place oil and onions in pan and gently sweat out, stirring only occasionally, letting the sugars develop. If necessary, deglaze with the balsamic vinegar a couple times.
Cook until a deep golden brown, about 30 minutes.
Season with salt and pepper and set aside.
Maple Pepper Pig Candy
Ingredients
1 lb. of thick cut bacon
¼ cup maple sugar
1 tablespoons fresh cracked black pepper
1 teaspoon fresh cracked pink peppercorns
Instructions
Preheat oven to 350.
Mix the maple sugar, black pepper and pink peppercorns in a bowl.
Place bacon, flat, on a parchment-lined sheet pan.
Top the bacon with a sprinkle of the sugar/pepper mixture.
Bake until super golden brown and crispy. Immediately transfer to a well-greased wire rack to cool. Ideally, this should be made the day of and cooled for 1-2 hours before serving. Do not hold overnight.
Giardiniera Aioli
Ingredients
1 cup mayonnaise
¼ cup Mauro Provisions Medium Craft Giardiniera, chopped fine. Other giardiniera brands acceptable as substitute
3 tablespoons ketchup
2 tablespoons stone ground mustard
1/2 teaspoon granulated garlic
Instructions:
To make the sauce: mix all ingredients together in a bowl until smooth.
Sandwich Build:
On the buttered and griddle bun, place a layer of the caramelized onions, 2 halved pieces of pig candy then the tomatoes (season with a bit a salt) shredded lettuce, a nice schmear of the aioli on the top bun only.
Close and serve!
Get news alerts in the Apple App Store and Google Play Store or subscribe to our email newsletter here.
Copyright 2023 WBRC. All rights reserved.